23rd Dec 2022
You can take some steps to improve your home's energy efficiency. Even if you've already made numerous improvements across your home, you most likely missed a few things.
Check out our list of some of the top energy efficiency quick wins you can make around your home. Before you know it, you can start saving on your power bill!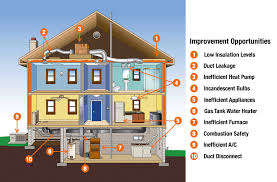 9 Ways to Boost Your Home's Energy Efficiency
Want to cut down on your home's energy use? Here are a few steps you can take today to improve your energy efficiency.
Switch Out Your HVAC Filter
When was the last time you changed your air filter? You could have some hidden energy savings hiding in your HVAC system. Replacing your hvac filter or cleaning it if you have a reusable one can reduce the energy it takes for your HVAC system to blow air across your home. It will also work more efficiently to clean the air in your home.
Maintain Your HVAC System
Your HVAC system requires regular maintenance to work at peak performance. Keeping your HVAC system in top working order will also improve its overall efficiency. This can reduce its power and make it run less frequently and intensely. You can save money on energy daily as your HVAC system works better overall.
Seal The Gaps Between Your Windows and Doors
Do you feel a draft in your home? If your windows and doors are letting in extra air, seal the gaps between the frame of your home. Doing so can stop your air from losing warm or cool air to the outside. This can cause your HVAC system to run less frequently. You'll also prevent more particulate matter from outside entering your home. This can improve indoor air quality and reduce air filtration and HVAC system stress.
Replace Your Lightbulbs
Installing more energy-efficient lightbulbs is an easy way to save power around your home. These can dramatically reduce energy costs and often have a much longer lifespan than less energy-efficient bulbs. Not only will you save on your power bill by upgrading, but you'll also cut down on the number of bulbs you have to buy.
Install a Smart Thermostat
You can make significant gains in energy efficiency in your home by installing a smart thermostat. With this upgrade, you can make your HVAC system more agile and responsive to temperature changes. You can also allow it to heat or cool different parts of your home as needed, reducing your overall energy expenditure.
Upgrade Your Appliances
When was the last time you upgraded your appliances? You could be missing out on huge energy efficiency gains if it's been a few years. Home appliances are more energy efficient than ever, and swapping out that dishwasher, microwave, or old HVAC system could help you cut your energy bills.
Go Solar
Your home most likely has enormous potential to generate its energy with solar panels that are being unrealized. Installing solar panels can help you efficiently use your home's total energy potential. You can lock in energy costs now and avoid rising prices in the future. You'll also have an uninterrupted supply of energy to count on, even in the event of power outages or disruptions.
Install New Insulation
Insulation can help to moderate your home's temperature, keeping you warm in the winter and cool in the summer. If your home lacks insulation or has old and outdated insulation, new insulation can improve your energy efficiency. Insulation is inexpensive to install and provides instant energy efficiency benefits.
Buy a New Home
If you're able to, buying a new home can be an incredible way to make your home more efficient. Newer homes are built with highly energy-efficient materials. You'll require less energy to heat and cool a newer home. This could help you save money running your HVAC system, which will also be upgraded with the latest technologies to do the most work with the least amount of energy.
Schedule an HVAC Maintenance Appointment Today!
Please schedule an appointment with an HVAC maintenance company today to give your system the TLC it needs. They can inspect your HVAC system for any problems and schedule repairs as needed. Catching any issues with your HVAC system early can help you save money in the long run. You may also notice lower power bills as your heater or air conditioner runs with less effort and less frequently.